Third day of the 77th UNGA session in New York City Photograph: AFP
On the third day of the 77th United Nations General Assembly (UNGA) session, several prominent leaders are expected to make their statements.
Among the topics that are likely to be discussed are: the Russian invasion of Ukraine, climate change and nuclear disarmament. 
 
Sep 23, 2022, 05:54 AM (IST)


Sep 23, 2022, 05:06 AM (IST)


Spanish Prime Minister bids for energy independence, says Russia 'blackmails' the world.
He added that Spain supported a "mutually acceptable political solution" regarding Western Sahara.
Sep 23, 2022, 02:31 AM (IST)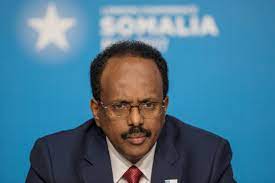 "In Somalia we are working tirelessly to transition from over two decades of devastating conflict, drought, famine and developmental stagnation, to a new age of stability, progress and prosperity. However, despite our continuing efforts, Somalia and its resilient people are facing some of the most complex and inter-connected crises in the world. The crises include an ongoing regional drought which directly threatens the lives and livelihoods of Somalis, most vulnerable communities. In fact, our government has called on all its business community, diaspora and international partners to work with us to do everything possible to avert a possible looming famine."
Sep 23, 2022, 01:50 AM (IST)


Chairman of Sudan's sovereign council general, claimed that Sudan supported peace and security in the Democratic Republic of the Congo and assisted in implementing a revived peace accord in South Sudan, a neighbouring nation.
Sep 23, 2022, 12:55 AM (IST)
Denmark has promised to provide more than $13 million to help developing countries that have suffered losses as a result of climate disturbances, making it the first nation to provide "loss and damage" compensation to the most vulnerable regions to the effects of climate change.
Flemming Mller Mortensen, the Danish Minister for Development, made the commitment on the fringes of the UNGA, stating that the Sahel region in northwest Africa and other fragile regions would receive the new climate money.
"I am very happy that we have agreed to increase support for climate-related losses and damages," he said in a statement. "It is grossly unfair that the world's poorest should suffer the most from the consequences of climate change, to which they have contributed the least."
Sep 22, 2022, 10:28 PM (IST)
Israel PM Yair Lapid declares support for 'two-state solution' for Israel-Palestine issue
Sep 22, 2022, 10:23 PM (IST)
Israel PM has alleged that if Iran succeeds in developing nuclear weapon, it will use it
Sep 22, 2022, 10:20 PM (IST)
Lapid accused Iran was conducting 'Orchestra of hate' against Israel.
"Iran's regime hates Jews," he said
Sep 22, 2022, 10:19 PM (IST)
Israel PM Yair Lapid slammed what he termed 'Anti-Israel movement' spreading fake news about Israel.
Sep 22, 2022, 10:16 PM (IST)
"Israeli Arabs are not our enemies," says Israel PM Yair Lapid
Sep 22, 2022, 10:09 PM (IST)
Abdel-Fattah AlBurhan Abdelrahman Al-Burhan, President of the Transitional Government of Sudan has urged 'far reaching' reforms in Security Council
Sep 22, 2022, 08:42 PM (IST)
Comoros President Azali Assoumani has declared support for 'two-state solution' to resolve Israel-Palestine conflict
Sep 22, 2022, 08:17 PM (IST)
"WTO has remained indifferent to needs of developing countries," says Zimbabwe President Emmerson Dambudzo Mnangagwa
Sep 22, 2022, 06:12 PM (IST)
Sep 22, 2022, 06:11 PM (IST)
Sep 22, 2022, 06:08 PM (IST)


Israel's Prime Minister Yair Lapid is expected to call for a two-state solution with Palestinians during his Wednesday speech at the United Nations General Assembly in New York, i24 reported quoting an official close to the Israeli premier.
Stay connected with us
© 2022. Indiadotcom Digital Private Limited. All Rights Reserved.